Members' Corner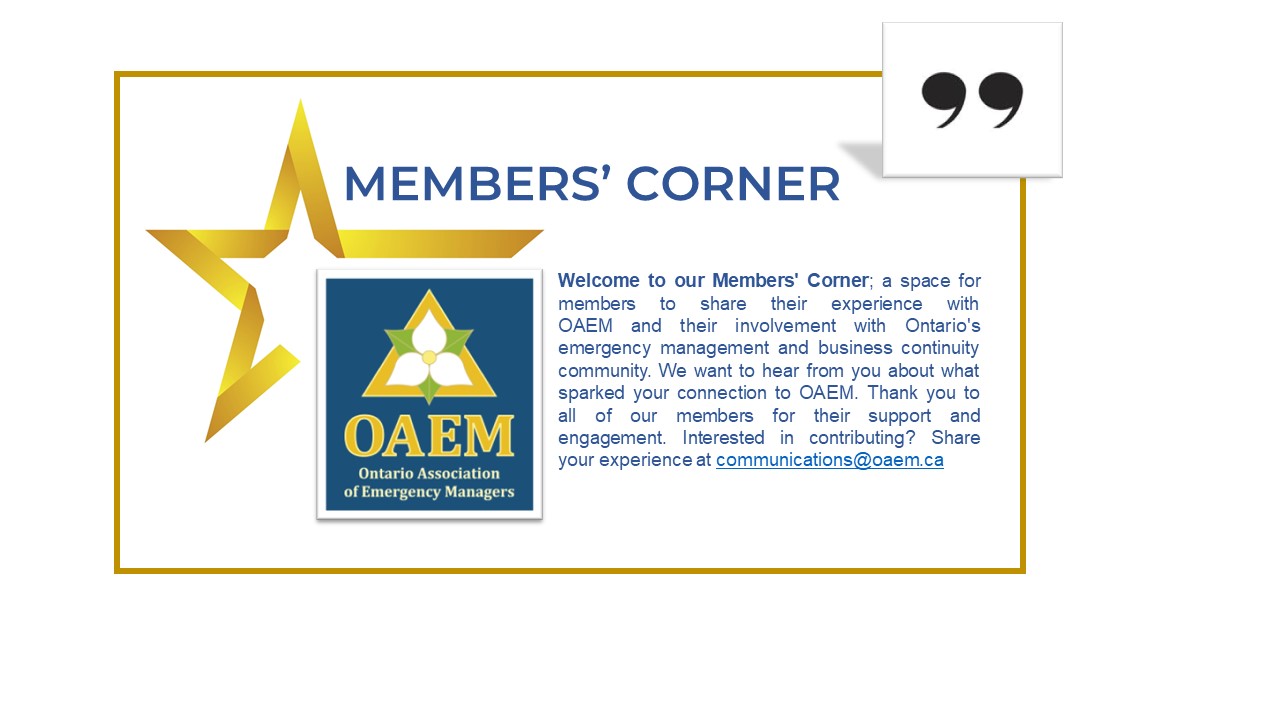 ---
"It is the work of community Members that inspire me to support OAEM in the capacity of volunteer Director of Communications, Board of Directors. Seeing the tremendous growth of OAEM in just one year, I know there is a bright future in collective collaboration to advance the profession of Emergency Management in Ontario. The importance of the work our Members do each day, resonates throughout OAEM - commited to delivering continuing professional development, sharing news and information, hosting monthly Emergency Management Spotlight Series webinars with incredible speakers, supporting professional networks and connections at the community level. The Communications Team (Colin Mander, Megan Storozuk and myself) have an opportunity to work on really creative communications pieces to support knowledge sharing and engagement across 4,000 social media followers while fulfilling OAEM's mandate; supporting, engaging and connecting Ontario's diverse emergency management and business continuity professional and student community. We love what we do on behalf of the Association! Member diversity inspires innovative and interactive communications outreach within Ontario and beyond."

Martin Gierczak, OAEM Director of Communications
Professor, Operational Resilience at Seneca College
---
"As a relatively new practitioner in the field of Emergency Management, my time at the OAEM and the Post-Secondary Institutions Subcommittee has provided me with professional opportunities and insight that I am greatly thankful for. The assistance, insight, and experience I have gained from working with both the OAEM Director and the Subcommittee has helped me elevate my understanding of Emergency Management from academic theoretical knowledge to practical experience in my new role as an Emergency Management Analyst. I very much look forward to continue working with the entire team to not only continue to grow professionally, but help the subcommittee in achieving its mandate.
Junior Emergency Management Analyst, Calian Group
---
"Having joined as a MDEM candidate, the OAEM has provided incredible support for my education in providing an amazing mentorship program (a huge shout out to John Klich), incredibly produced and timed Emergency Management Spotlight Series webinars that support learnings and invaluable networking opportunities, including the invites to the AGM.
I truly do feel that the OAEM has been a strong contributor to my success in this evolving field. Thank you!"
Medical Training Officer, City of Brampton
---
"As an emergency manager my effectiveness is directly related to the relationships that I have fostered through the OAEM.
Emergency management is about relationships,
OAEM
membership provides me with countless opportunities to build those relationships.
The
OAEM
is an important part of my ongoing professional development as a municipal emergency manager." (Sept. 2023)
Steve Murphy, County of Dufferin
Manager, Preparedness, 911 and Corporate Projects
---
"Being the OAEM Director of Community Relations has allowed me to grow professionally and personally. As a member of the Board, I have learned how to run a board meeting in accordance with Roberts Rules of Order, propose, discuss and debate motions for approval, develop Briefing Notes and build relationships with the Board by working on projects such as strategic planning, EM Spotlight Series Webinars and OAEM's Annual Tribute to First Responders Day.
And, as an
OAEM
Member, I have access to a vast and diversified emergency management and business continuity community across Ontario and beyond." (Sept. 2023)
Daphne Farrell,
EM Canada