OAEM Student Awards
DEADLINE EXTENDED TO NOVEMBER 14, 2021
The Ontario Association of Emergency Managers (OAEM) provides students in post-secondary certificate, diploma, undergraduate or master programs, in emergency management, with the opportunity to receive an award to recognize their achievements during each academic year.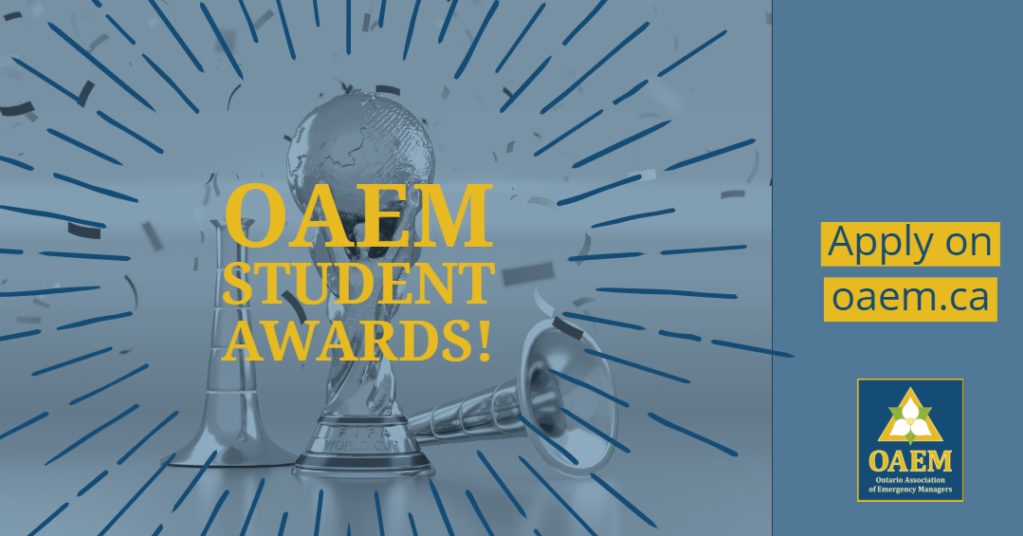 Awards are available in the following categories:

Brian Hook Memorial Award
Brian Hook Memorial Award honours the memory of Major Brian Hook (CD) who was a past president of OAEM. He attended Royal Roads and The Royal Military College, and served with the Royal Canadian Dragoons from 1971 to 1999. Following his retirement from the army in 1999, Major Brian Hook spent 3 years with the Emergency Management Office in York Region before retiring again in 2002. He very much believed in helping students and giving back to the community. This award is given to a student who has made significant contributions to the field of Emergency Management while maintaining a high level of academic excellence. ($1,500)
A. Normand Academic Award
A. Normand Academic Award is named after Alain Normand, an author, lecturer, teacher and expert in Emergency Management, and a past OAEM President. He directed relief efforts in emergencies such as the Saguenay floods, the Quebec Ice Storm, the Haiti repatriation, and the Calgary floods. He was a long time Emergency Manager for the City of Brampton until his retirement in 2021. Alain Normand is the recipient of the 2010 Canadian Award for Emergency Management from the Canadian Centre for Emergency Preparedness. He teaches emergency management and business continuity at York University and Sheridan College. Alain is also the author of a series of novels on emergency management. For this award students will submit a 1,200 – 1,500 word essay on any topic relating to emergency management and business continuity. ($1,000)
Marg Verbeek President's Award

Marg Verbeek President's Award is named after Marg Verbeek, the first President and one of the founding members of OAEM. Marg was also the President of International Association of Emergency Managers in 2005-06. She studied at Ryerson University and Royal Roads University and has more than 30 years of emergency management experience. Marg is the recipient of the Canadian Award for Emergency Management and has been inducted into the International Women in Homeland Security & Emergency Management Hall of Fame. This award highlights a professional who has gone back to school to either upgrade their level of academic learning or change professions to emergency management and will be based on their grade point average (GPA) and contributions they have made to the field. ($500)
---
ELIGIBILITY

Applicants must be registered in any of the following post-secondary educational programs during the current academic year:
Undergraduate degree in emergency management at a university/college.
Graduate studies in emergency management at a university.
Graduate certificate or diploma in emergency management at a university/college.
Professional certificate/continuing education program in emergency management at a university/college.
Graduate or undergraduate program where a significant amount of the curriculum or research relates to emergency management.
REQUIREMENTS
Candidates must:
Have completed at least one semester in the program if enrolled on a full-time basis; or two courses within the program if enrolled on a part-time basis.
Satisfy the requirements of this application, including minimum academic status, letter of recommendation and evidence of relevant activities (e.g., community involvement, work history, etc.).
Have an Ontario address of residence or attend an educational institution in Ontario.
Students who wish to be considered for awards must complete the entire form and provide the appropriate information.
Professional students must satisfy requirements from requirement #1, including GPA and list of contributions that are associated with the Emergency Management/Business Continuity field (for President's Award only).
ALL APPLICANTS must complete the personal information page and sign the last page of this application and submit the application via email attachment to education@oaem.ca.
Please be aware that while OAEM encourages all applicants to become members of the association, membership of OAEM is not mandatory in order to receive an award.
APPLICATION SUBMISSION:
Your completed application form must be received by the OAEM no later than Friday November 12, 2021 at 11:59pm by submitting an application to education@oaem.ca before the deadline (Microsoft Word or PDF documents only). Paper applications will not be accepted, and all documentation must be supplied electronically to the above email address.
Please be aware all applications are reviewed by OAEM's Board of Directors.
AWARDS NOTIFICATION AND PRESENTATION:
Award recipients will be notified by email no later than Sunday November 21, 2021. Please be aware we do not reply to unsuccessful applicants to inform them of the final decision.
Awards will be presented during DEMCON taking place December 1 & 2, 2021.
For more information, please contact the OAEM Education Chair at education@oaem.ca. Click HERE for further application information.